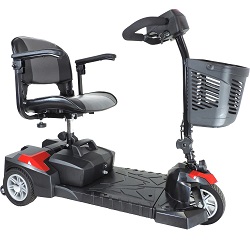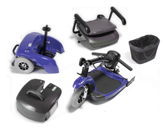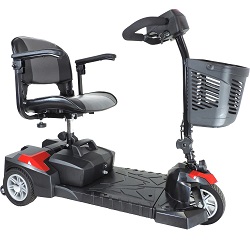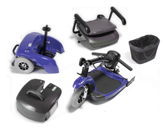 Spitfire Scout DLX 3-Wheel Travel Scooter
In Stock
Configure Your Spitfire Scout DLX 3-Wheel Travel Scooter System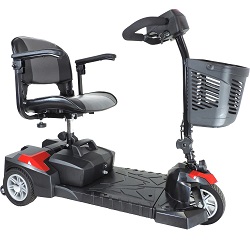 Performance Features
Weight capacity of 300 lbs.
Scooter can be easily disassembled into 5 pieces for transport or storage.
9 mile maximum range.
Adjustable speed up to a maximum of 5 mph. This is controlled in two ways, primarily from the speed pot on the control panel, but also more subtly by the throttle pressure.
Anti-tip wheels for greater safety.
Solid, flat-free tires for worry-free travel.
Comfort Features
Adjustable angle tiller allows the client to position the controller into the most ideal driving position.
Seat features 180 degree swivel and fold-down backrest. The swivel feature aids in entering and exiting the scooter
Removable flip-up armrests have adjustable height, width and angle for a broad range of adjustments. These can easily be changed and adjusted to fit the needs of the client.
Seat back folds completely flat, which comes in handy when transporting or storing the scooter.
Standard plastic front basket includes removable liner bag
Product Summary
Quick and easy disassembly.
Glossy finish interchangeable color shrouds in Red and Blue.
Armrests are padded and adjustable.
Quick connect batteries.
Ergonomic throttle control.
Height-adjustable swivel seat with fold-down backrest.
Flat-free, non-marking tires.
Large, plastic carry basket.
Easy-to-adjust tiller.
Anti-tip wheels.
Delta tiller.
Easy freewheel operation
You may also like…
JM 2410E Standard Scooter

Standard Size Four Wheel Mobility Scooter for Indoor / Outdoor Use. Rated for 350 lbs Free Shipping & In -Home Warranty Included! (Give us a call for Sale Price)

JM 23-10E Standard Scooter

Seat Size - 18 inch seat, 20 inch seatColor - Blue, Red

Three Wheel Standard Size Mobility Scooter for Indoor and Outdoor use. Rated for 350 lbs. Free Shipping & In-Home Warranty Included! Call (877) 585-4041 for Pricing.
Features
Our most popular 3 Wheel Travel Scooter. Dependable, safe, and easy to use. Disassembles to 5 pieces for easy transport. Call (877) 585-4041 for Pricing – Free Shipping!
Specifications
| | |
| --- | --- |
| Weight Capacity | 300 lbs. |
| Top Speed | 4.25 mph |
| Maximum Range | 9 miles |
| Turning Radius | 45.5″ |
| Climbing Angle | 6º |
| Ground Clearance | 2.5″ |
| Dimensions | 42.5″ (L) x 21.25″ (W) |
| Floor-to-Seat Height | 17″ – 19″ |
| Seat Dimensions | 16.5″ (W) x 16″ (D) |
| Controller | CTE 45A |
| Motor | 24V x 270V x 4700 rpm |
| Specification 12 | Batteries (pair) 12V x 12AH |
| Charger | 2A Offboard |
| Brakes | Electromagnetic |
| Front Wheels | 8″ x 2″ Flat Free |
| Rear Wheels | 8″ x 2″ Flat-Free |
| Base Weight | 49 lbs. |
| Battery Weight (pair) | 20 lbs. |
| Seat Weight | 16 lbs. |
| Total Weight | 85 lbs. |
| Heaviest Piece Weight (Front Section) | 29 lbs. |
| Warranty on Frame | Lifetime |
| Warranty on Electronic Controller/Drive Train Components | 14 months |
| Warranty on Batteries | 6 months |