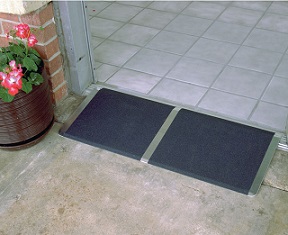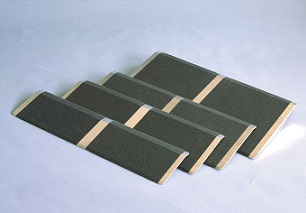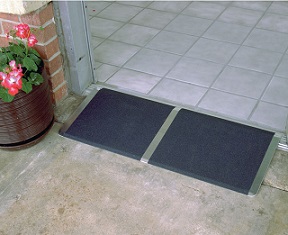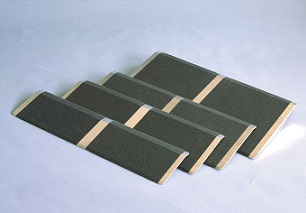 Threshold Ramp with Traction Tape
$99.95
In Stock
Configure Your Threshold Ramp with Traction Tape System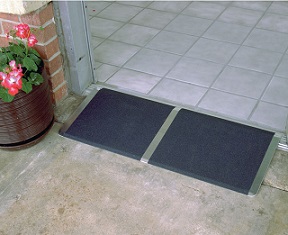 This aluminum threshold ramp is a perfect fit for any doorway in need of a boost up. It is complete with traction tape that prevents slipping. Ramps from ¼" to 4" are available on our site. All are lightweight and have a capacity of up to 600 lbs. Lengths vary from 8" to 24". 
With holes punched in the top corners of the aluminum, the ramps are easy to install and come with all the hardware necessary to attach them to any surface.
Limited lifetime warranty included with purchase.
Features
Designed to fit doorways

Easy to install with punched holes in top corners

Made from aluminum which is durable and easy to carry

Traction tape creates high slip resistance

All hardware for installation provided

Limited Lifetime Warranty
Specifications
| | | | | | |
| --- | --- | --- | --- | --- | --- |
| Item | Length | Width | Threshold Height | Weight | Capacity |
| TH2436 | 24" | 36" | 2″ – 4″ | 15 lbs. | 600 lbs. |
| TH2432 | 24" | 32" | 2″ – 4″ | 12 lbs. | 600 lbs. |
| TH1636 | 16" | 36" | 1 1/2″ – 2″ | 6 lbs. | 600 lbs. |
| TH1632 | 16" | 32" | 1 1/2″ – 2″ | 6 lbs. | 600 lbs. |
| TH1232 | 12" | 32" | 3/4″ – 1 1/2″ | 5 lbs. | 600 lbs. |
| TH1032 | 10" | 32" | 1/2″ – 3/4″ | 4 lbs. | 600 lbs. |
| THR832 | 8" | 32" | 1/4″ – 1/2″ | 3 lbs. | 600 lbs. |