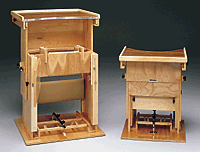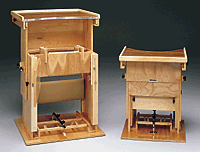 This standing table is a great tool to help someone's posture. People often can get stiff and can damage their body in the long run if they are bedridden or work jobs where they sit in one position for long periods of time. It can also help those who feel pain when they sit. This product helps you establish a better stance. Our standing tables come in both child and adult sizes.
Features
The product design of this table is constructed to support all weight bearing down on it from standing. 

It's also made to be an adjustable surface.

It's multi-use for studying, working, playing, and other activities. 

There are child and adult options.
Specifications
Child Size:
Top height from floor 26″ to 43″

Top and base 24″ x 24″

Cut out size 6-1/2″ x 20″
Adult Size:
Top height from floor 34″ to 53″

Top and base 30″ x 30″

Cut out size 10″ x 26″