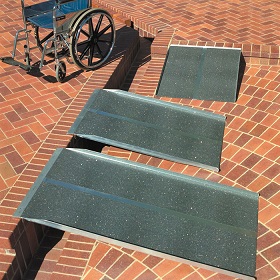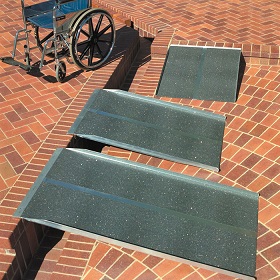 These solid aluminum ramps offer scooter and wheelchair users easy access to any step or threshold. The durable, slip resistant aluminum makes every variety of ramp perfectly navigable. Steel security pins and a safety DVD are included with purchase to ensure safety when installing and using the ramps. Each size ramp can hold up to 800 lbs. 
Different models offer different sizes and weights, but each is sure to offer excellent accessibility to any home or office.
A limited lifetime warranty is included with every purchase.
Features
Steel security pins and a safety DVD included with purchase

All ramps offer excellent stability

High traction surface offers high slip resistance

Extremely durable welded aluminum construction

Scooters and wheelchairs with any types of wheel are accommodated

All ramps tested at 3X safety factor

Limited Lifetime Warranty
Specifications
| | | | |
| --- | --- | --- | --- |
| Model | Size L X W | Weight | Capacity |
| SL536 | 5′ x 36″ | 30 | 800 lbs. |
| SL530 | 5′ x 30″ | 25 | 800 lbs. |
| SL436 | 4′ x 36″ | 23 | 800 lbs. |
| SL430 | 4′ x 30″ | 20 | 800 lbs. |
| SL336 | 3′ x 36″ | 18 | 800 lbs. |
| SL330 | 3′ x 30″ | 15 | 800 lbs. |