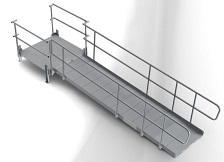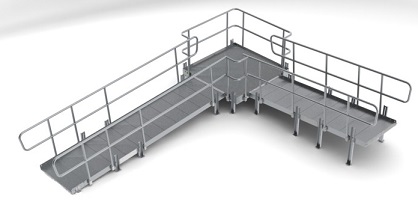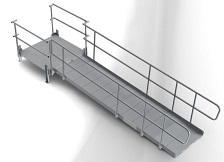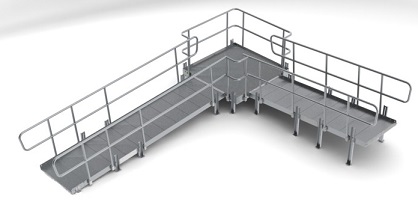 Modular Ramps – Straight and Angled
$1,485.00
In Stock
Configure Your Modular Ramps – Straight and Angled System
These modular ramps are available in both straight and angled varieties. They are perfect for wheelchair or scooter accessibility to any home or office. The ramp has an entry section which included legs, powder coated handrails, and hardware for set up and take down. 
Ramps rise up to 60" and can hold up to 100 lbs per square foot. Edge protection guards against bumps, and the ramp itself contains grooves which offer excellent slip resistance. If your ramp starts on a soft surface, you may purchase a landing pad for your ramp which makes movement even easier. Guardrails, handrail extensions, and gates are also available for purchase as needed.

Ramps include a limited lifetime warranty, but this does not include the powder coated handrails.
Features
Available in lengths from 4'-8'

Includes 2′ ramp entry section complete w/ handrails, hardware, and legs

Handrails are powder coated white

Can rise up to 60"

Easy to move and reconfigure

Durable, weather-resistant aluminum ramp

Little to no site preparation or maintenance required

Can be configured in a variety of ways

45° and 90° switchbacks and turns

ADA guardrails, handrail extensions, and gates available

QuikBlock Modular Ramp Supports recommended for use

Limited Lifetime Warranty, with exception of powder coated handrails
Specifications
| | |
| --- | --- |
| LENGTH | As required – 4′ minimum |
| WIDTH | 36″ |
| FLOOR | Slip resistant grooved aluminum |
| SLOPE | Adjustable – as required |
| EDGE PROTECTION | 2″ curb |
| LOAD CAPACITY | 100 lbs. per square foot |
| EDGE PROTECTION | 2″ curb |
| HANDRAILS | Double 11/2″ bar – standard Height 36″ –38″ |