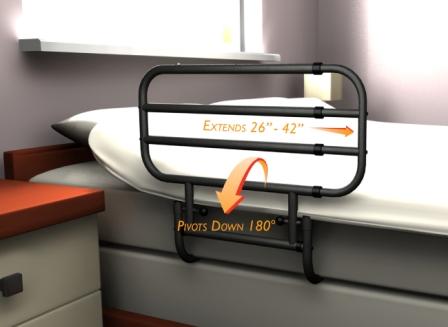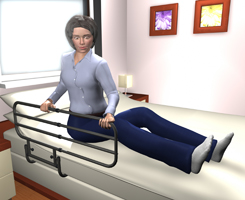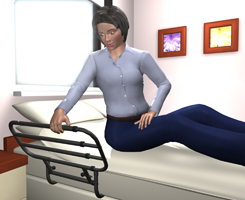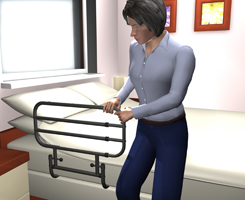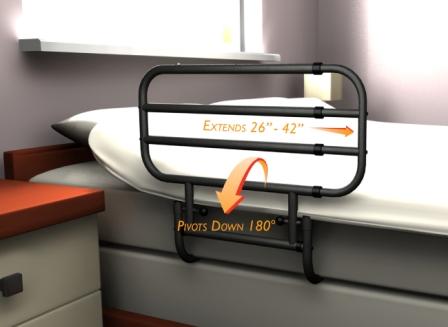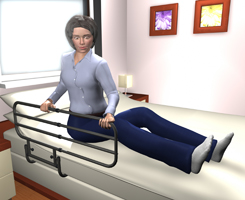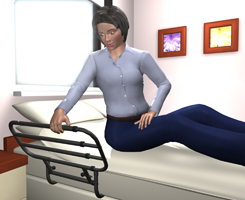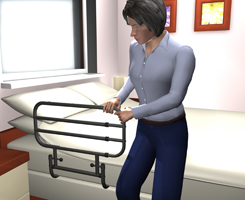 Secure Payment Online

24/7 Support

Quick Shipping

Free Shipping
(on orders over $50)

Made in USA

Life Time Warranty
Bed Rail/Hand Rail – Adjustable length allows for use as both a bed rail to prevent falling out of bed or as a hand rail to asist in getting out of bed.
Adjustable – Bed rail easily adjusts from 26" to 34" to 42" after it has been placed on the bed.
Collapsible – Rail folds down to side of bed to allow user to get out of bed or provide space for making bed.
Reversible – Can be placed on either side of the bed
Dual Safety Strap – Secures bed rail to any home or hospital bed.
Accommodates up to King size beds.
Width of Rail: Locks in place at 26", 34" & 42" after installed on bed
Frequently Asked Questions:
How does it attach to the bed? A dual safety strap loops around the bed frame on the opposite side of the bed and secures it to the bed frame. Fits all sized beds
Can it be used on a hospital bed? Yes
How hard is it to assemble? It is quickly assembled with 4 bolts and an included Allen wrench; no other tools are required
Can the person in bed lower the rail? Yes. Pull the pins and let the rail down. When raised the rail will pop back into place
Is it height adjustable? No. The rail is 23" high from the base of the mattress which is high enough to accommodate most pillow top mattresses.
Features
Adjustable in Length, Folds to Side of Bed, and Fits Any Bed! Our MOST Popular Bed Rail!
Only $129.95 – Free Shipping!
Specifications
Height of Rail: 23" high from the base of matress
Gap Between Rails: 3"
Weight of Product: 14 lbs
Bed Type: Attaches to any home or hospital bed with included Safety Strap
Weight Capacity: 400 lbs
Assembly: Installs in minutes with 4 bolts and Allen Wrench (Included)
Package Dimensions: 28" x 21" x 1.5"