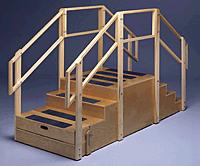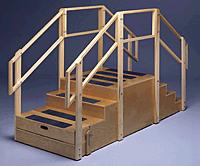 Secure Payment Online

24/7 Support

Quick Shipping

Free Shipping
(on orders over $50)

Made in USA

Life Time Warranty
Training stairs are a key component of recovery for patients with balance and walking issues. Using stairs helps rebuild strength and coordination in the lower body that may have been impacted by surgery or injuries.
These straight-line stairs offer steps of different lengths and heights, so patients can practice navigating different terrain. The sturdy handrails and no slip surfaces allow patients can build confidence and strength. This model also comes with a Bus Step, to help patients prepare for the obstacles they will face in the outside world and regain mobility and independence.
Features
Comes with Bus Step

Straight staircase

8 steps

Non-slip treads on all walking surfaces

Reinforced handrails on both sides

Steps can be accessed from two sides
Specifications
Platform height 24"

Platform area 36" x 36"

Total height 59 ¼ "

Total length 96"

6" x 10" riser

36" wide