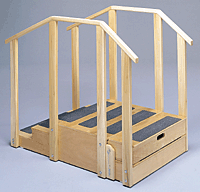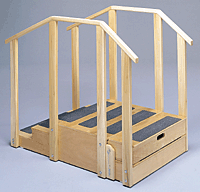 Secure Payment Online

24/7 Support

Quick Shipping

Free Shipping
(on orders over $50)

Made in USA

Life Time Warranty
Training steps are a vital part of rehabilitation for patients whose balance, strength, and walking have been impacted by surgery or injury. They help patients regain muscle tone and function. Patients can also practice using mobility aids, like canes and walkers, in a safe environment.
These straight stairs are ideal for offices with limited space and low ceilings. This model has three short steps on one side of the platform, and a Bus Step on the other side that can become two steps. It can be used from both sides or stored with the Bus Step against a wall.
Features
Comes with adjustable Bus Step

Non-slip grips on walking surfaces

Straight staircase

3 small steps

Bus Step can become 2 smaller steps

Great for smaller spaces
Specifications
Platform height 12"

Platform area 30" x 24"

Total height 40 "

Total length 55"

Riser size 4"x 10" or 6" x 10" 

30" wide