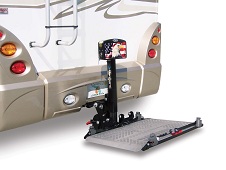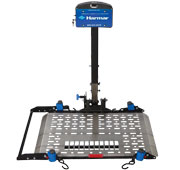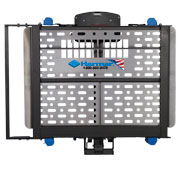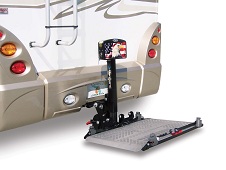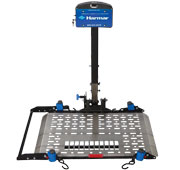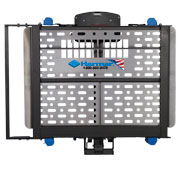 Secure Payment Online

24/7 Support

Quick Shipping

Free Shipping
(on orders over $50)

Made in USA

Life Time Warranty
The AL300RV lift is the first and only lift model specifically constructed for RV use. It is engineered to be heavily reinforced, capable of withstanding all the rigors of traveling in an RV. This model is designed with Harmar's Stars-N-Stripes aluminum deck dedicated to the American heritage of the company and our veterans.
It comes equipped with a hitch adapter that allows it to fit on basically any RV. This model can accommodate both power scooters and chairs. Like every vehicle lift manufactured by Harmar, the AL300RV lift is built in the United States. It arrives to your home pre-assembled and is ready to install upon delivery.
You may also like…
Osprey 4410

Color - Silver

Our largest scooter! Four wheel with huge ground clearance perfect for heavy outdoor use!  Free Shipping  (Call 877-585-4041 for Price and Options!)
Features
Pusher Hitch Adapter upgrade available allowing the hitch to be adjusted to 32"

Carries basically all power chairs and scooters

License plate mount and manual crank backup included

No power chair or scooter modifications

Drop Hitch Adapter standard with an option to adjust up to 26" hitch height

4 – Self-tensioning Q'Straint retractors
Specifications
It has a lifting capacity of 350lbs (160kg).

Installed weight is approximately 82lbs.

Hitch height range 5″ – 26″ can be upgrade to 32″.

Hitch class of III or greater.

Aluminum deck size is 27.5″ x 39″ and with an adjustable cradle installed to extend up to 46″.

3-year transferable warranty.